The Gherkin building sold to Brazilian businessman Joseph Safra for £726 million
28th November 2014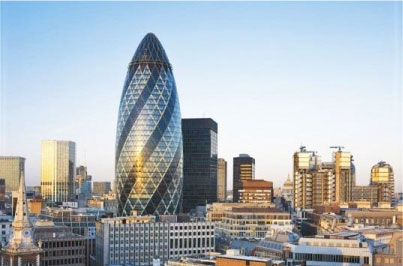 The past few weeks have seen London rake in a number of high-profile transactions due to its skyline properties changing ownership.
Perhaps the most notable activity was the deal which saw the Safra Group and its Brazilian billionaire owner, Joseph Safra, purchase the world famous Gherkin on Monday 10th November for £726 million.
Canadian fund manager, Brookfield has also acquired a 12.5% share in the 100 Bishopsgate project, which is expected to begin construction in early 2015. The shares were acquired from the project's developer, Great Portland Estates.
However, on top of all of this, Canary Wharf's HSBC Tower is on the market for £1.1 billion and is expected to be sold to the Qatar Investment Authority in the near future.
These record-breaking deals have even impressed the City's commercial property experts. Don Jordison, managing director of Threadneedle Property Investments notes how the "last property cycle took five or six years to get to this level" and that he has "never seen such a sweet spot" for commercial property investment.
Such noticeable skyscraper activity in the property market has also boosted other areas of office space in the city. Global consultancy, Deloitte, has claimed that new office space under construction in London is at its highest point in 10 years.
While Phil Tily, executive director of MSCI/IPD has attributed the staggering success to the recovering economic situation in the UK, other figures have suggested that the investors are attracted to the city by other factors.
Matt Hodgkins of AMP Capital asserts that "For many investors, the preservation of capital is more important the return on capital."
The coming weeks, before the end of the year, are viewed as being increasingly busy with investors before a probable cooling down in the new year. Carolina Simmons, an analyst at USB Wealth Management, sees the coming general election and potential EU membership referendum as an uncertain factor that will "play on investors' minds."