Rates of office sharing increasing amidst growing popularity of this vibrant market
25th October 2015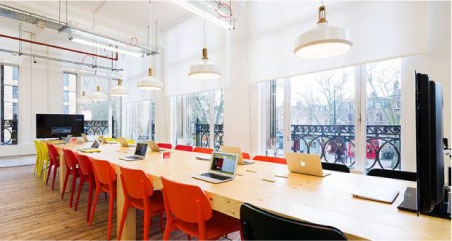 One of the latest trends in London's commercial property market is the growth of shared working space.
Established shared office space providers have flourished at a time when business accommodation is increasingly difficult to come by and offer a level of flexibility unrivalled by many renowned providers.
Providers within this market are able to subdivide sections of working space and offer a plethora of fittings and facilities, should they be required by the rental client. In addition, the leases can be offered on a length of the clients choosing.
Alexi Marmot is a professor of facility and environment management at UCL and has highlighted the emergence of these types of office providers. Marmot labels them as "the latest incarnation of serviced offices or office hoteling, selling fully fitted out and equipped space." Marmot expressed praise towards the convenience of the terms offered with the rental. He said "Expensive, inflexible and long lease for corporate offices are no longer essential and indeed seem increasingly questionable."
Only last year did a report by the City of London Corporation claim that 18,000 workers were now working out of shared office spaces. This number is sure to have increased further due to the recent continued growth just this year.
This trend has notably caught on quickly with start-ups, allowing space to be rented to these modern and innovative companies. An exciting working environment is ultimately created in a lot of these shared locations, where individual desks can be booked for use via smartphone.
In 2014, the Office for National Statistics released their NOMIS findings and claimed that London was now the home of 400,000 start-ups and SME's. The growth of shared space's target market has undoubtedly led to the increased amount of tenants at these shared venues.
Flexibility and cost effective factors (no utility bills) have spearheaded this trend, which provides an ideal solution for young and exciting companies and looks set to grow even furthering the coming year.