Commercial property market in London close to 2007's peak
22nd January 2015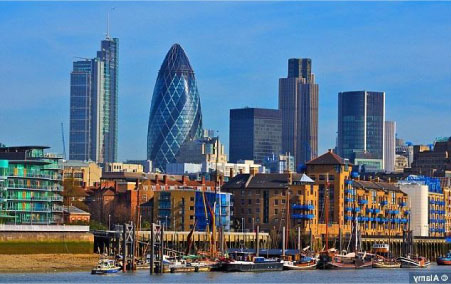 The commercial property market in Central London has reached a high point and is now close to its last peak in 2007, prior to the financial crisis.
Property consultancy, Cushman & Wakefield has released a report that marks the investment in the capital's commercial property at a level of £20.5 billion in 2014. This is slightly below the £20.6 billion that was invested in 2007.
The findings indicate the vast amount of demand for office space from foreign companies and note the significant investment from abroad. Figures reveal that 78% of the fourth quarter and annual total investment in the City of London market came from overseas businesses. Notably, North American and Asian organisations were responsible for much of the activity in this market. Indeed, the data also asserts a much higher level of demand than available business space for the city as a whole
The City of London and Docklands alone brought in £5 billion in the final quarter of the year – a level which has set a record as the market's highest quarterly investment ever.
Such an impressive performance was highlighted by the consultancy's head of City of London investment, James Crawford.
"The international appeal of London continues with an ever increasing spread of new global investors entering the market and there are no signs of an imminent shutdown.
Crawford also expressed buoyancy over the market's performance in the coming year, stating "the first half of 2015 shows all the early signs of a continuation of last year". However, he also went on to concede that the firm expected "some profit taking to occur later in the year and uncertainty around the general election in May."
UK companies have also invested more funds in the West End, though foreign organisations still hold a considerable stake in the commercial property market here. Andrew Thomas is a partner in Cushman & Wakefield's West End investment team and attributes the "return of the UK funs as major investors in the West End" as "the consequence of yield compression outside of London".
Thomas sees this as resulting in "investors needing to focus on growth markets for returns, hence the surge of capital in the latter half of last year".
Thomas also added his belief that the market in the West End will continue to grow as a result of early investment.